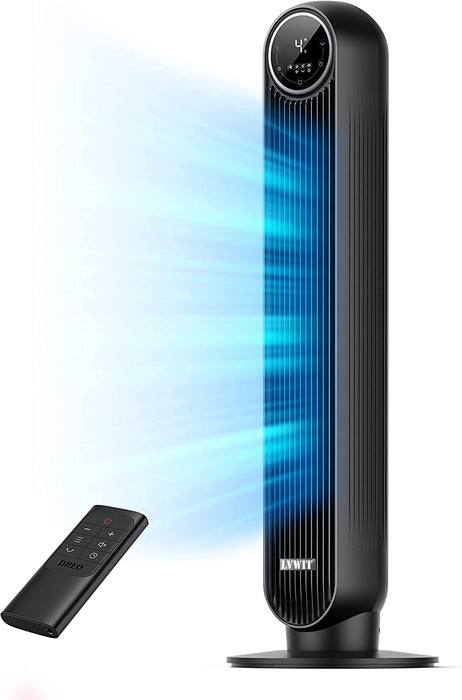 LVWIT Tower Fan with Remote, 24ft/s Velocity Quiet Cooling Fan, 90° Oscillating Fan with 4 Speeds, 4 Modes, 8H Timer, Bladeless Fan, Standing Floor Fans, Black
Powerful Meets Portable: This 36-inch compact tower fan enlivens every inch of air in your living space fast at up to 24ft/s.
Cut Out the Noise: Enjoy all-day serenity and comfort, enabled by its algorithmic impeller design and the magical Conada effect. Along with display auto off, auto mute in Sleep mode, 8h timer, and soothing airflow, you can always get a restful sleep whenever you need it.
Easy to Clean & Safe to Use: Removable rear grille and impeller wheel make cleaning more accessible. Designed with fingertip pinch-proof grills, a fused plug and built-in circuit protection, this ETL-listed tower fan ensures safety is always prioritized.
Far and Vast: 90° oscillation and calibrated airflow path allow this oscillating fan to cover more areas in the room. Combine with your cooling air conditioner to cut cooling costs during hot days.
Fit Anywhere: With a compact design and a hidden handle, you can easily store the remote in the built-in compartment and carry this slim fan to your bedroom, living room or elsewhere. A perfect choice for home and office.