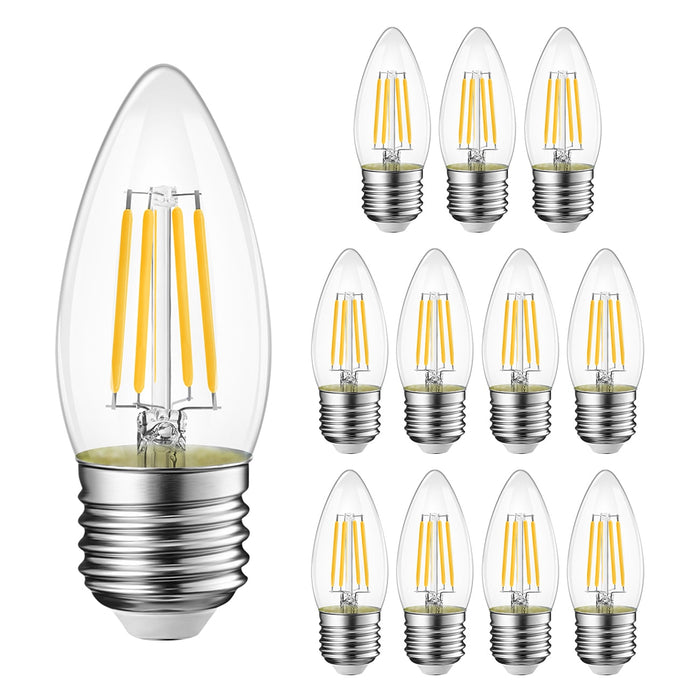 Equivalent to 40W, Ultra Bright 470Lm Dimmable.
High Efficiency: Advanced LED Filament chips, replaced 40 Watt incandescent bulb only uses 5.5Watt of power, it's 90% energy-saving.
Sufficient Brightness: Full lighting of 470 Lumens given out when you turn the switch to Max. Color temperature 2700K warm white. 5%~100% dimming scope is available, which meets your more lighting needs. LUTRON dimmer is firstly recommended. NO-flicker. CRI 80 plus, it's close to Daylight color#100 Ra.
15,000 Hours Lifetime: Rated to provide up to 15, 000 hours of reliable light, it's equivalent to 8 years lifespan with 6 hrs/day of use. additional 3-year warranty, which highly reduces re-lamp frequency.
Standard E26 Base: Fits universal existing American E26 base well and screw into fixtures directly.
Application: Indoor lighting for Hotel, Offices, Hospital, Schools, Factories, Museum, Shopping malls, Supermarkets, Restaurants, etc.
Technical Details
Brand: LVWIT
Colour Temperature: 2700K warm White
Base Type
: E26
Luminous Flux
: 470 lumen
Wattage: 5.5 watt
Incandescent Equivalent
: 40 watt
Voltage: 120 volts
CRI
: >80
Average Life: 15000 hours
Number of Items: 12 PCS
Material: Glass+Aluminum
Shipping Mods: Free shipping