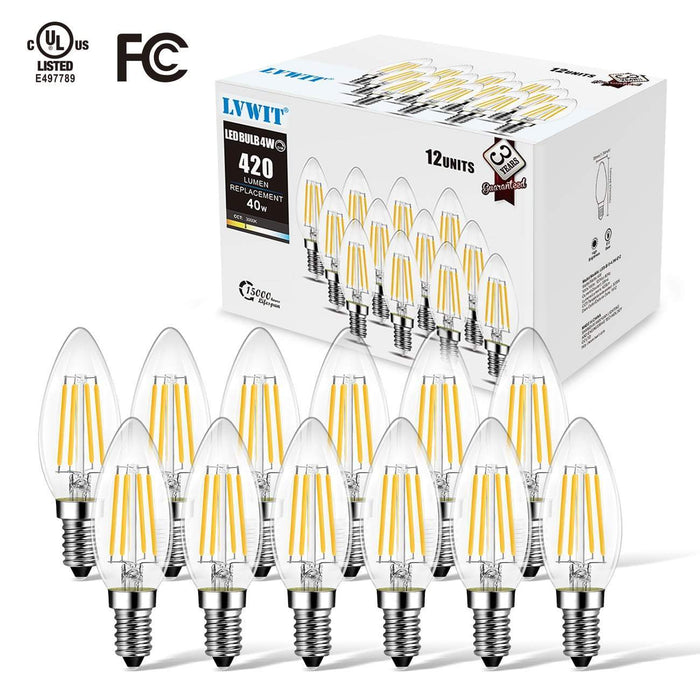 E12 LED Light Bulbs, 420Lm B11 6&12/Pack
translation missing: zh-CN.product.item.badges.sold_out
Equivalent to 40W, Ultra Bright 420Lm Dimmable.
Enough Brightness: Full brightness with 500 lumens provided when the dimmer turned to the max. Color temperature 2700K warm white. 5%~100% dimmable range is available. Restore the color strongly a lot with 80 plus Ra color rendering indexes(Daylight equivalent to 100Ra). It's the best choice to upgrade the lighting of your home.
Energy Efficiency: Up-to-date led tech., replacing 60Watt incandescent bulb only uses the energy of 4.7Watt. Saving 90% power-consuming instantly.
15,000 Hours Lifetime: It's rated to last at least 7 years with 6 hrs/day of use, attached 3-year warranty, which highly reduces re-lamp frequency.
Easy to install: Standard E12 small base fits universal existing American E12 base well and screw into fixtures directly.
Applications: Indoor lighting for Hotel, Offices, Hospital, Schools, Factories, Museum, Shopping malls, Supermarkets, Restaurants etc. Any questions, pls let me know directly. We like to make it right. Thanks a lot in advance.
Technical Details
Brand: LVWIT
Colour Temperature: 2700K Warm White
Base Type
: E12
Luminous Flux
: 420 lumen
Wattage: 4 watt
Incandescent Equivalent
: 40 watt
Voltage: 120 volts
CRI
: >80
Average Life: 15000 hours
Number of Items: 6&12 PCS
Material: Glass+Aluminum
Shipping Mods: Free shipping